ERIN HARPE & THE DELTA SWINGERS
"Electric Boogie, Blues & Beyond!"
"Erin Harpe is a knockout."
–Robert Feuer, KGGV-Occidenta (CA)
"Delightful delivery and positively top-notch fretwork… about as good as it gets!"
–Blues Magazine (Netherlands)
Erin Harpe has been called "one of the most dynamic, talented and exciting roots rocking blues women on the scene" by Living Blues Magazine. The singer, guitarist, songwriter, producer, and leader of the Boston Music Award-winning band, Erin Harpe & the Delta Swingers, was named New England's "Blues Artist of the Year" in 2019. Hailed as "an authentic blues chanteuse", as well as a celebrated guitarist and purveyor of early country blues, Erin grew up learning finger-style acoustic guitar from her dad, Neil Harpe, a DC-area performer, visual artist and vintage guitar expert. She's been compared to legendary blues-women like Memphis Minnie, JoAnn Kelley, Rory Block, Maria Muldaur, and Bonnie Raitt, and recognized as "the next star in the acoustic blues" by TheCountryBlues.com, which recently wrote that "Erin Harpe has it all... the skills as an exceptional guitar fingerpicker, the musical heritage and knowledge, a wonderful voice, great stage presence and star-quality good looks to boot." Erin has toured all over the US and Europe, opened for ZZTop, Buddy Guy, James Cotton, Honeyboy Edwards and more, headlined festivals, and released three critically-acclaimed albums on the VizzTone label, which earned accolades from Living Blues, Downbeat, Sing Out!, Vintage Guitar, and many other highly-regarded publications, and charted in the Roots Music Report Charts, the iTop Top 100 Blues Albums AND Relix Jamband Radio Charts! Hear for yourself – Erin's music is available streaming on all major platforms from Spotify to iTunes!
• New England Music Awards "Album of the Year" for "Meet Me In The Middle" (2021) 
• New England Music Awards "Blues Artist Of The Year" (2019) 
• Boston Music Awards "Blues Artist of the Year" (2012) 
• Boston Blues Challenge Winner (2018, 2014, 2012 & 2010) 
• Granite State Blues Challenge Winner (2022, 2016) 
• International Blues Challenge Semi-finalist (2019, 2017, 2013 & 2011) 
• Boston Music Awards Nominee (2018, 2012, 2011, & 2010)
Erin Harpe & the Delta Swingers on Don O'Dell's Legends.
Erin has been recognized, along with Bonnie Raitt, Susan Tedeschi, Shemekia Copeland, Rory Block, and Ana Popovic in Alternate Route Magazine's "30 Woman Burning Up the Blues"
Band history and releases:
In 2010 Erin and her husband, bass player Jim Countryman, started Erin Harpe & the Delta Swingers, an electric delta blues-inspired quartet. They were off to a great start right away, winning the Boston Blues Challenge that same year and being christened "Charles River Delta Blues" by the local media. They were signed to blues label VizzTone in 2014. In the past 10 years the band has gone electric and branched out to create their own style, dubbed "boogie, blues and beyond" – an electrifying original sound that takes you from the delta to the dancefloor mixing in funk, soul and reggae swing!
Erin Harpe & the Delta Swingers have released three albums, all of which have done very well on radio charts, receiving critical acclaim from media around the world. Love Whip Blues (2014) received 4 stars in DownBeat Magazine and was featured on SiriusXM's Bluesville, and the band's sophomore album Big Road (2017) made the TOP TEN in Roots Music Report's Contemporary Blues Albums chart, the iTop Top 100 Blues Albums AND Relix Jamband Radio Charts. The band's first holiday album, The Christmas Swing (2018), made it to #2 on the Roots Music Report's Top 50 Holiday Album Charts (Eric Clapton's holiday album was #5!), as well as #17 on the Living Blues Charts!
For Erin's newest release, MEET ME IN THE MIDDLE, she goes back to her roots in country blues for an intimate acoustic duo album she recorded in isloation in 2020, following up a trio of successful albums with The Delta Swingers. The album features 10 tracks, including four self-penned songs, and her own interpretations of traditional tunes and songs by blues-women from Memphis Minnie to Lucille Bogan, with styles ranging from traditional country blues and slide guitar to folk, gospel and Zydeco. The stripped-down record features Erin Harpe on acoustic, slide and 12-string guitars and vocals, as well as kazoo and foot percussion, with ukulele bass and backing vocals provided by partner Jim Countryman.
Erin has also put out two other acoustic blues albums, Blues Roots (2002) and Delta Blues Duets (2008) – an album of duets with her dad – in between touring and releasing five albums with her rock band Lovewhip (with hubby/bass player Jim Countryman). Erin's soulful vocal style and accomplished finger-picking guitar playing has earned her many fans, including guitar greats Billy Gibbons and Ronnie Earl, and she is quickly becoming recognized on the international blues scene.
Erin Harpe & the Delta Swingers at the New York State Blues Festival.
Early history:
Growing up in Maryland, Erin learned finger-style blues guitar from her dad, visual artist/guitarist Neil Harpe, as well as from watching local piedmont blues luminaries such as John Cephas & Phil Wiggins, John Jackson, Eleanor Ellis, Warner Williams and others – at the famed Archie's Barbershop. There was always music in the house, and lots of guitars – as her dad was a collector/restorer/dealer of vintage guitars. Being surrounded by country blues, and watching her dad and his band, Franklin, Harpe & Usilton, perform at clubs and folk festivals around town, Erin soaked it all in. Still, she resisted learning guitar at first and opted instead to learn the flute. But eventually in her teens, she picked up the guitar, and has never put it down.
Later moving to Boston, Erin began performing solo around town, where she soon met bass player Jim Countryman. The two started a band (Lovewhip) and a record label (Juicy Juju), and began releasing their own music in 2000. (Somewhere in there they also got married.) And a few years later, Lovewhip was invited to play SXSW in Austin, TX and coincidentally she was contacted by John Conquest, who had heard her recently released solo album "Blues Roots", with an invitation to play his alternative Americana music-based festival, "NotSXSW". Erin's performances there were so well-received, that she returned the next year as a duo with Jim on bass. By this time, they were beginning to find a national/international audience for Erin's blues, so when they got home the two decided it was time to start a blues band. Erin Harpe and the Delta Swingers was born! Originally as a sit-down acoustic country blues group...
In their first year as a band, they won the Boston Blues Challenge, and were in Memphis for the first time at the International Blues Challenge in 2011. While there, the band got to play the prestigious VizzTone Showcase at the Rum Boogie on Beale St. (VT president, Richard Rosenblatt, was their harp player at the time). In the excitement, trying to impress the crowd during the opening number, Erin accidentally kicked over her acoustic guitar, breaking its neck. Luckily the host, Bob Margolin (Muddy Waters Band), came to the rescue, bestowing Erin with his Gibson Les Paul gold top electric guitar, and Erin loved the sound so much she now primarily plays electric with the band. Since then, Erin has honed her sound, and her favorite electric guitars are her prized Epiphone Wilshires and her custom-made Karge Bel Aire, through a Marshall Origin tube amp.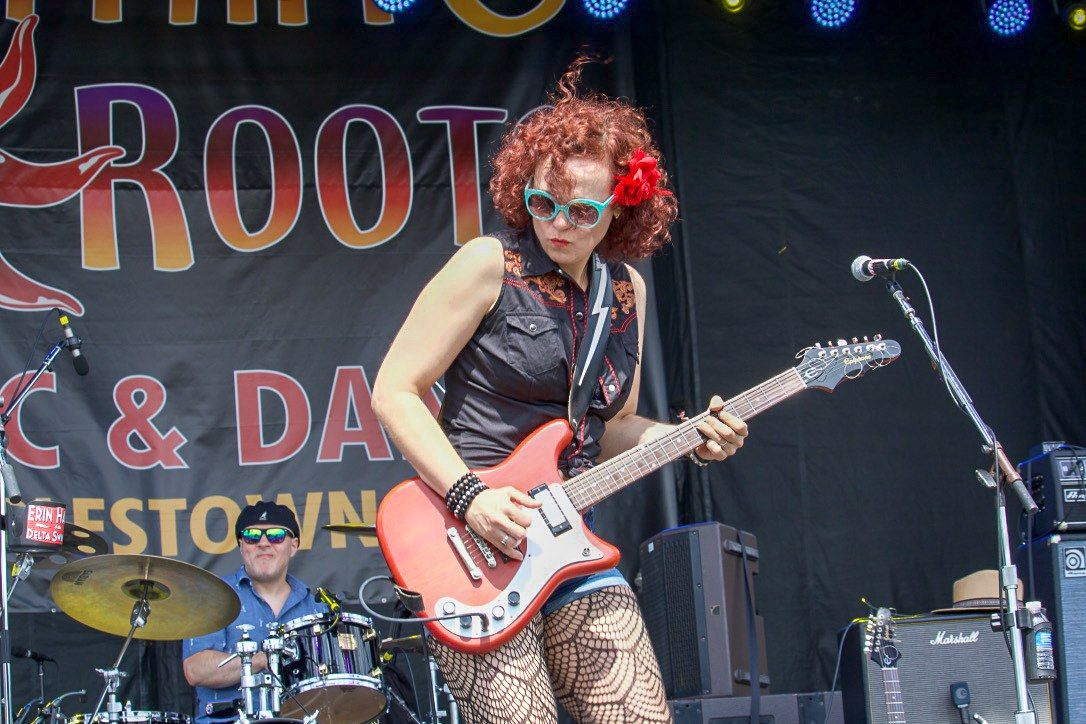 Erin on stage at the Rhythm & Roots Festival. Photo by Kevin Umlauf.
---
"Erin Harpe... has it all — a golden voice and the guitar chops that dazzle. As many of the great divas of the roots rocking blues are aging, the emerging new generation, like Imelda May, Grace Potter and Erin Harpe are firing up younger audiences, and Erin makes it as fun and exciting as ever, and that's a good thing for the blues."   
–Living Blues Magazine  

Read the full review  


"Easily Bonnie Raitt on modern performance enhancing drugs, Harpe is blues mama for our times. Killer stuff..."
–Midwest Record 
"Erin Harpe is a hunter and gatherer... collecting the sounds as her branded version of Delta Blues, reimagining and reworking the music."
–Alternate Root
"Harpe is delightful. She creates a happy vibe reminiscent of Hot Tuna... for those looking for a really good time."
–Richard Ludmerer, Making a Scene
"★★★★ Avoiding the perils of predictability, these four New Englanders craft a fresh, genre-crossing group sound…" -DownBeat Magazine  
"Erin Harpe is a hot mama blues singer." –Sing Out!
"Grabs the senses with a power and beauty... Harpe is a very fine guitar picker, with a great grasp of the ragtimey-blues feel and tradition in particular. Her voice is glitzy and grounded in the tradition too..." -Iain Patience, Elmore Magazine UK
"They won me over with a sound that harkens back to the time of juke joints, with some modern funk and rock woven in. Erin Harpe's got a righteous set of pipes and plays a mean guitar and the rest of the band has a whole lot of awesome going on." –Aimsel Ponti, MaineToday's Face the Music

"Something akin to what the blues sounded like, Muddy and his band plugged in, which sounds better than ever in these hands." –Cheap Thrills Boston
"A singular brand of blues... Harpe is an amazing talent and the band is a revelation."  –George Lenker, MassLive.com
"Fine musicianship"  –Blues Matters (UK)
"Erin Harpe has it all. The looks, the chops, the voice, the presence and the band all add to an aura that mesmerized the crowd..." –The Alternate Root Magazine

"This blues chanteuse breathes new, whiskey-soaked life into the likes of Memphis Minnie and Kansas Joe, with a sound that's uniquely Charles River Delta." –Boston's Weekly Dig

"A dance band that has a unique delta blues flavor and a world music creamy filling... mixing in afrobeat, reggae, funk, and disco with delta blues finger-picking, creating an amazing new sound." –Phil Simon, Live Music News and Reviews